What is Diamond Painting?
Well, it's similar to cross-stitch and paint-by-numbers but anyone can use it to create a dazzling DIY work of art. You take a picture and divide it into a grid pattern that's printed on canvas. By placing a combination of small diamond like gems called diamond drills over the grid pattern you recreate the art and give it a whole new dimension!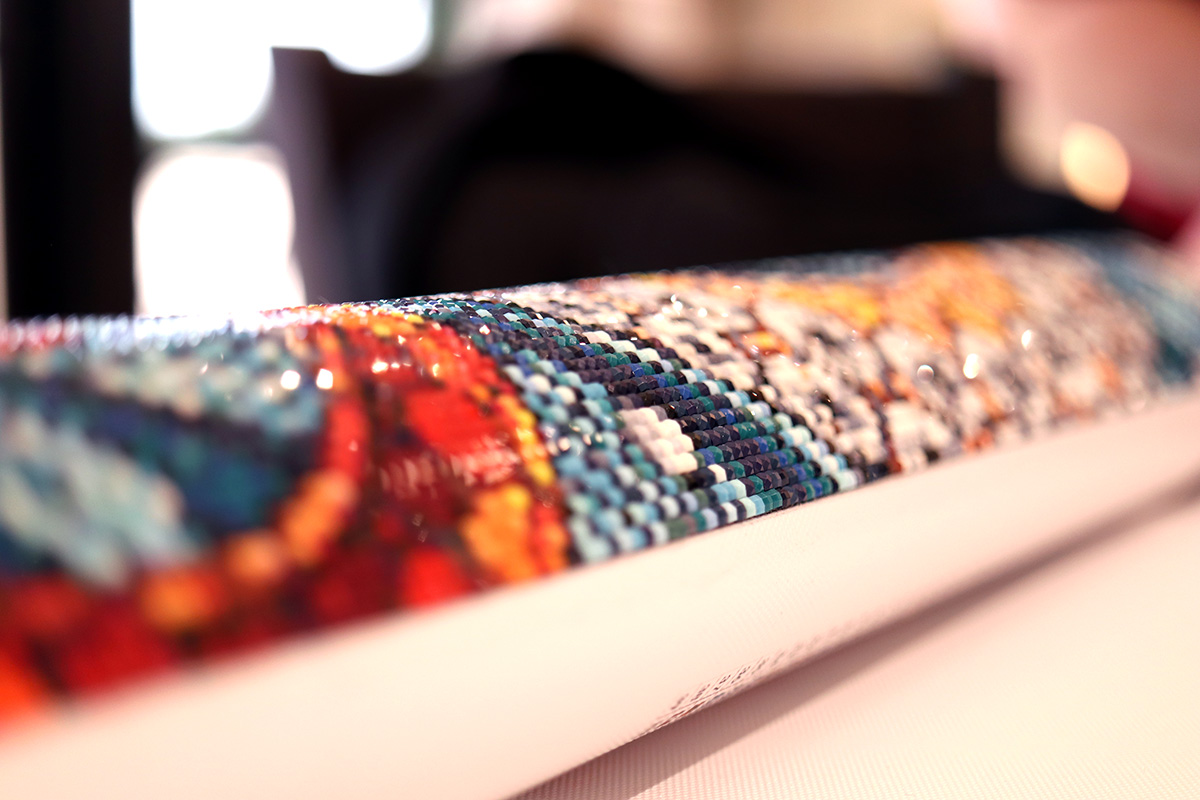 The idea behind Diamond Painting (much like cross-stitch) is to be the artist while you relax and engage in something that's creative and satisfying. Whether you're a craft beginner or a seasoned pro you will love taking images and turning them into your own custom artwork.
I really find crafting a new painting to be my favorite hobby for relaxing. It's enjoyable, and it feels great when it's hanging on my wall. The full pattern designs popular in cross-stitch, embroidery, and the concept of paint-by-numbers definitely inspired Diamond Painting
Each square of the grid contains a symbol (much like cross-stitch), letter, or number assigned to a specific DMC cross-stitch color.
The way you know which DMC cross-stitch code goes to which color diamond is by using a color chart. The color chart is usually printed on the border of the artwork in the area surrounding the diamond painting. Craftibly also includes a custom printed sheet for convenience. It displays a small image of the project and a large format chart with symbols and matching DMC number.
Each pack of diamond drills has the DMC number printed on them. I find them super easy to read/identify. Just double check your chart.
Glue won't be needed to add the drills to the canvas because an adhesive holds each diamond you paint into place. You shouldn't need extra diamonds because our kits come with all the drills to complete the project.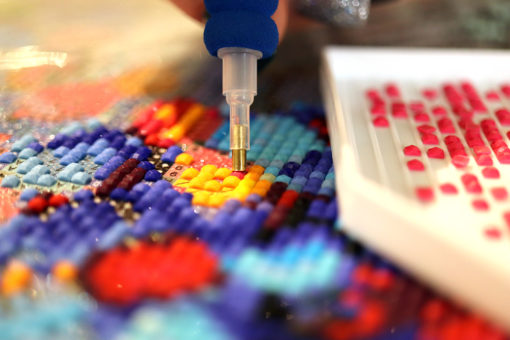 What Do I Need to Get Started Diamond Painting?
Open diamond painting kit on table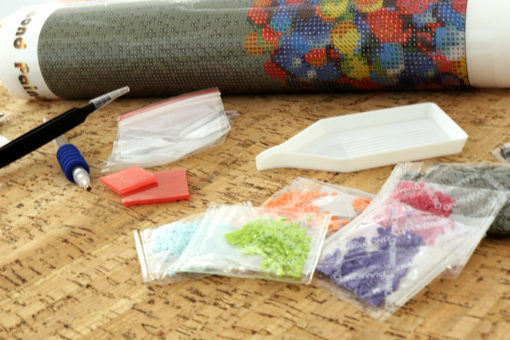 When you buy a Craftibly DIY Diamond Painting Kit it comes with everything, a diamond painting art pen, a comfort grip, a white tray with a funnel, pink pen wax, storage bags, and a free pair of tweezers.
Our easy to apply MaxLuster 5D diamond drills have 80 percent more sparkle than traditional 3D diamond drills and are made from high-quality art grade resin. Round or Square, the bottom side of each drill is flat to go firmly into place when you "paint" it into place.
The diamond pen included comes with a free comfort grip. The pen is used to pick up diamond drills and paint them onto the matching symbol with different tips. To pick up a diamond drill with the diamond pen you must first press one of the tips of the pen into the new pen wax which is just sticky enough to hold the diamond while you place it on the canvas.
The white tray included with each new kit is used to hold and separate drills as you paint. Tiny ridges on the bottom of the tray help to flip diamond drills over when softly shaking the tray as well as guide the drills into convenient rows. This makes painting easier and faster. The funnel at the end of the tray is perfect for pouring extra diamond drills into a new storage bag or container.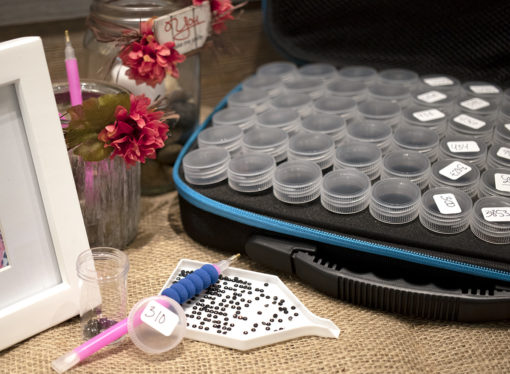 Tweezers included in our kits are used for two relatively different painting applications. Some use them in place of the diamond pen, but they are more commonly used to either straighten rows or remove drills that went on a little crazy.
There are always new types of Diamond Painting storage containers available. These come in handy when completing a large Diamond Painting. Many crafters prefer to do their paintings in sections, which means opening several colors at a time. Storage lets you save them for later use when you're further along in the painting. A Diamond Painting storage container or carrier also allows you to store diamond drills in a compact and organized way. No messy craft room here (cough, mhm, cough)!
It is important to remember and label which color diamond drill is in which storage container. So don't forget labels. Diamond painting is easy when diamonds are organized.
One of my personal favorite painting accessories or tools, is my diamond roller. As I complete each new section of a diamond painting, I use the roller to secure and flatten all the diamond drills. This helps me keep the drills from popping off the painting when moving or framing my canvas.
Light pads and magnifiers are also great tools when painting. A light pad can help make the symbols more clear in dark areas of the painting, and magnifiers help the symbols appear larger when placing diamond drills.
The first step is to select a Diamond Painting kit that looks interesting to you. Whether you start out small or go big, Freetime Hobby has Diamond Painting Kits perfect for you.